Snow is covering the FunDivEUROPE plots in Finland, Belgium, France, Germany, Poland and Romania.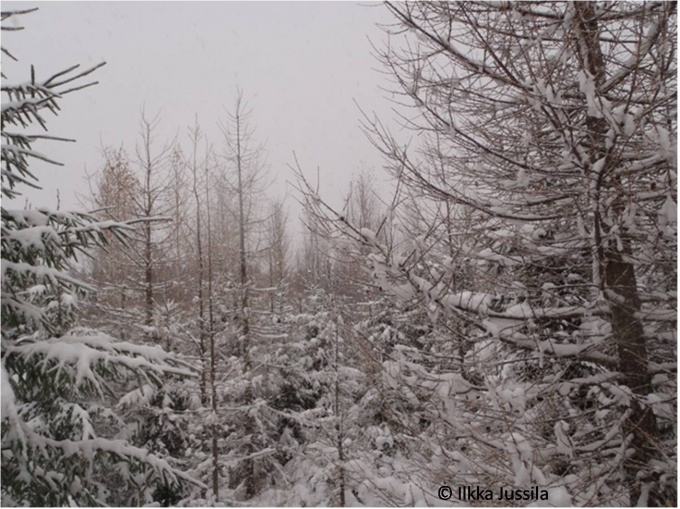 Larix sibirica covered in snow_Satakunta Experiment; Finland.
We are looking back to a successful field season, were we kept true to our philosophy: All measurements on all plots (-> picture gallery from this summer).
To make this happen, required a tremendous amount of km travelled. Some of our PhD students hardly spend a week at home this summer. A lot of discipline and long working hours in the field by PhD-students, site technicians, student helpers …..
But the work is far from done: currently our labs smell of dried leaves and soil. Leaves from litter traps are getting sorted into the different fractions. Roots samples need to be picked and separated. Soil is dried, milled and analysed.
Sorting leave litter for T3.7 in Satakunta, Finland
Technician Kris Ceunen (UGent) and M.sc. student Astrid Vannoppen (KU Leuven) processing soil samples in order to determine the functional diversity and biomass of the microorganism populations of the exploratory plots.
Charlotte Grossiord from INRA-Nancy is doing her PhD on Water balance, water use efficiency of trees (T3.9). This summer she was involved in fresh leave sampling and talking tree cores for isotope analysis. "So far we have been grinding and weighting the leaves we collected this summer in Italy, Germany and Finland. We even completed all analyses with an IRMS for δ13C and δ18O.
Concerning the wood cores that we took on all Exploratory sites, we are still separating the years of interest on the wood cores, grinding and weighting them in order to make the same analyses with the IRMS as for the leaves. For now Finland and Italy have been completely analyzed and we are currently working on the German cores."
Virginie Guyot from INRA – Toulouse travelled three countries this year (Italy, Germany and Finland) to collect fresh leaves to study impact of forest diversity on herbivory insects and their natural enemies. "In total, at the end of summer, I (and many helpers) assessed the crown of 818 mature trees. We harvested about 43 000 leaves and shoots and we beated 623 saplings or low branches to collect spiders.
During autumn and winter, I have to assess the leaves and shoots collected. For the moment, I worked only on Castanea sativa from Italy and I start to analyse data. This specie is attacked by cynips which cause galls on burgeons and leaves (fig. 1). Figure 2 shows damage by other guilds of insects."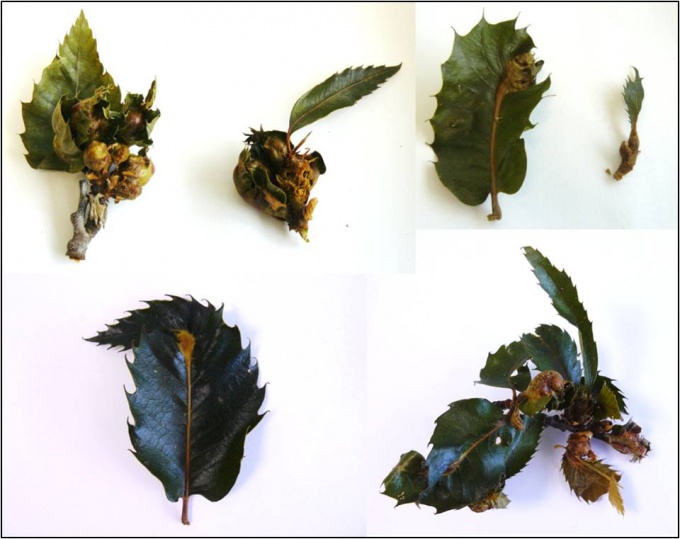 Figure 1 : Leaves and burgeons attacked by Dryocosmus kuriphilus, an invasive cynips which induce galls on Castanea sativa, collected in Italy.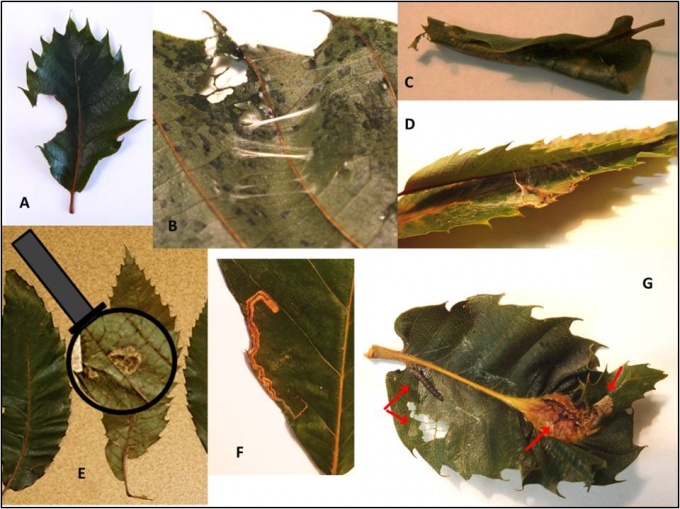 Figure 2 : Damages of different insect guilds on Castanea sativa leaves. A : Chewer – B&D : Tiers (silks are visible) – C : Roller – E&F : Miners – G : multiple damages on leaf (left to the right) : Chewer with caterpillar, Galler and Miner.
Diem Ngyuen and the team from SLU, Uppsala, Sweden have sampled the same trees as Virginie to assess fungal pathogens. Specifically they account for leaf spots, powdery mildew, rust and needle cast. Efforts are being focused on processing spruce needles from Germany and Finland from this very productive summer and preparing them for 454 pyrosequencing. A subset of spruce needles from last year´s sampling campaign in the Experimental Platform have been processed and sequenced. The fungal species from these samples comprise both endophytes and pathogens. The remainder of those needle samples are currently in South Korea being sequenced as we speak. The results from these two sequencing runs will guide how we proceed to obtain the best quality data from the samples in the exploratory plots that are currently stored in the many plastic boxes at SLU.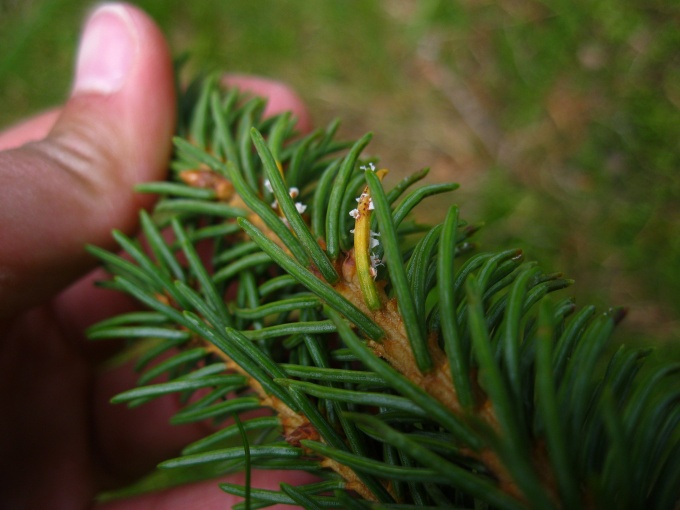 Rust caused by Chrysomyxa ledi on Norway spruce in Finland
Beneficial organisms for pest regulation are assess by Yohan Charbonnier, PhD student from INRA, Bordeaux, France. His winter work comprises of analysing sonograms from bat and birds recorded during this summer.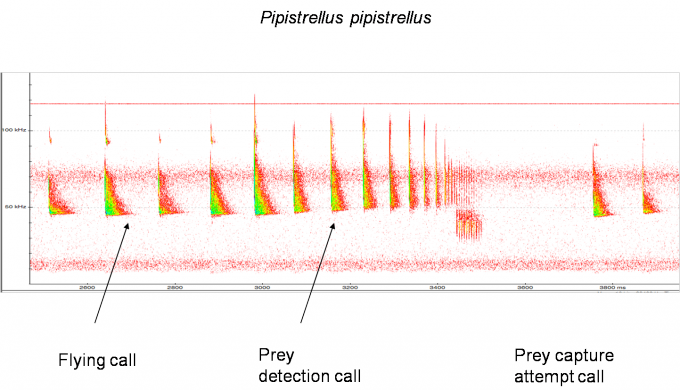 Above: Sonogram and audio file of Pipistrellus pipistrellus. In the first part of this file you will listen to the flying call, emitted for minimal informations (where are trees…) and eventually to detect prey.
In the middle there is an acceleration of rythms when the bat detects prey and tries to catch it. After the prey capture attempt the rythm will become slower.